Graffiti from 1805

Isn't it strange that, in Hagia Sophia, I can easily picture the sixth and eleventh centuries, but two gents in top hats and frock coats standing here 215 years ago is astonishing. These signatures- one in copperplate- are really hard to see, but worth the effort. When they were carved, Hagia Sophia was a mosque, and the mosaics were covered up. But most of the graffiti was already there.
Guards at Hagia Sophia
These three made my drawing experience in Hagia Sophia so pleasant that I presented each with a print of their portrait.
Guli Obama Kedi still lives in Hagia Sophia, where she hangs out near the altar, surrounded by fatuous tourists and clicking cameras. The stunning whirligigs at center are original Byzantine inlaid stonework, pre-dating that in the Taj Mahal by a thousand years. Gleaming pearly and black stone, it was cleaned just before this drawing. The graffiti is from one of the many balustrades and constitutes a texture of its own. Sadly I've lost the name of the young guard, but he too got his portrait.
A Date With and Angel: Work in Progress 1

I set up shop between two pillars under the Emperor's Loge, in the North gallery. First day. For this piece I did use a little pencil. Now you know.
A Date with an Angel: Work in Progress 2

I hate using pencil and hardly ever do it, but this drawing was so darn dense, with all those vertical wires plunging through. The workmen were Japanese, doing some structural work under the dome.
There it is: a Seraph holding up one corner under the dome, in Hagia Sophia's stunning architectural innovation: a square under a dome. This was the first temple in this shape, and it has carried the day for centuries.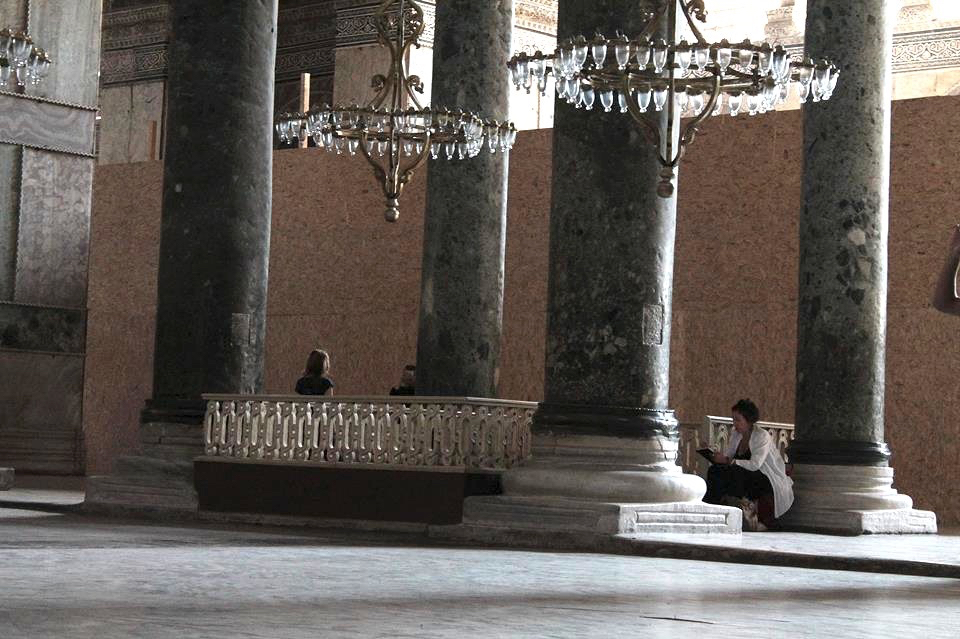 Çetinkaya Father and Son
Premier carpet restorer and merchant Mehmet Çetinkaya and his son Said flanking one of their favorite pieces. Mehmet Bey has restored the carpets in the carpet museum behind Hagia Sophia, some of them hundreds of years old.