Earl and Ken

Earl and Ken fell in love with Istanbul and opened Denizen Cafe in Sultanahmet. I would draw all day and land there later for coffee and conversation. They decamped back to San Francisco in 2014, and how we miss them!
Empress Fast Take

An idea for the cover of the next book, a shot of Hagia Sophia and Hagia Irene. There followed days of drawing on a rooftop, trying to fit the immensity of two huge Byzantine basilicas onto one small book cover, intersperced with restorative coffees at Denizen Cafe.
Oscar and the Moon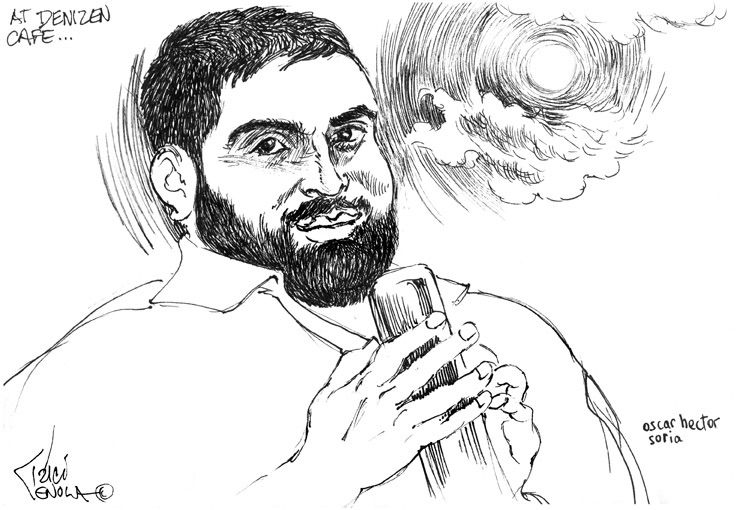 Empress False Start

Okay, so we'll tilt the composition… but made a hash of Ayasofya's west façade (at left), in a way that couldn't be fixed. Another session shot. That's what I get for working directly in ink.
Mete and Christian at Denizen

Light and dark: Denizen host Mete, looking like a cross between Joaquin Phoenix and Dionysius, with Christian from Hawaii, who had just cut his long strawberry-blond dreadlocks. I expect they've grown back by now, he really missed them. Mete, has since graduated college and has gone global. Last I heard he was in Rome.
Empress Shadow
Aaugh… so close, but no cigar. This one works except for the shadow of that minaret across the face of Ayasofya. Wrong time of day!
Ugur of Diyarbakir
Another beginning drawing blown, a different cafe, and this face. By the beard, I must have gone back more than once.

At last!! Both Hagia Sophia and Hagia Eirene in one shot, as they actually appear. 2nd Century Hagia Eirene, at left, was rebuilt after the Nika Riots of 532, and served as a munitions dump under the Ottomans. Hagia Sophia, built by Justinian and Theodora, was consecrated in 537, the greatest church in Christendom for 1000 years. After 1453, it was a mosque, renovated in the 16th century by great architect Mimar Sinan, for Suleyman the Magnificent. Sinan buttressed the huge and fragile dome, anchoring the buttresses with minarets, which set off the grand old dame like a fabulous pair of earrings. No other building so completely illustrates the duality of Istanbul's history. I still look at this and hear Mahalia Jackson singing "Way Up."

And as you can see, it fits on the cover. I have 3000 copies of this, and it will be in the store when we've worked out the logistics.
[DISPLAY_ULTIMATE_SOCIAL_ICONS]