Boats drawn while sitting up in bed looking out at the Marmara Sea. The best view I'd ever had. This book includes a lot of drawings of Plovdiv, Bulgaria. It's the oldest continuously-occupied city in Europe, going back 8000 years. It fell to Philip of Macedon a mere 2500 years ago. It's had many names, but Plovdiv is actually Bulgarian. I went there via train for one day every three months for about four years, to renew my Turkish residence visa. During that time I was paying huge rent by freelancing, so one day was all I could afford. It was bliss to wander about Plovdiv drawing with no thought of anything else. I have an entire book of drawings of Plovdiv, scattered through several of the Turkish books.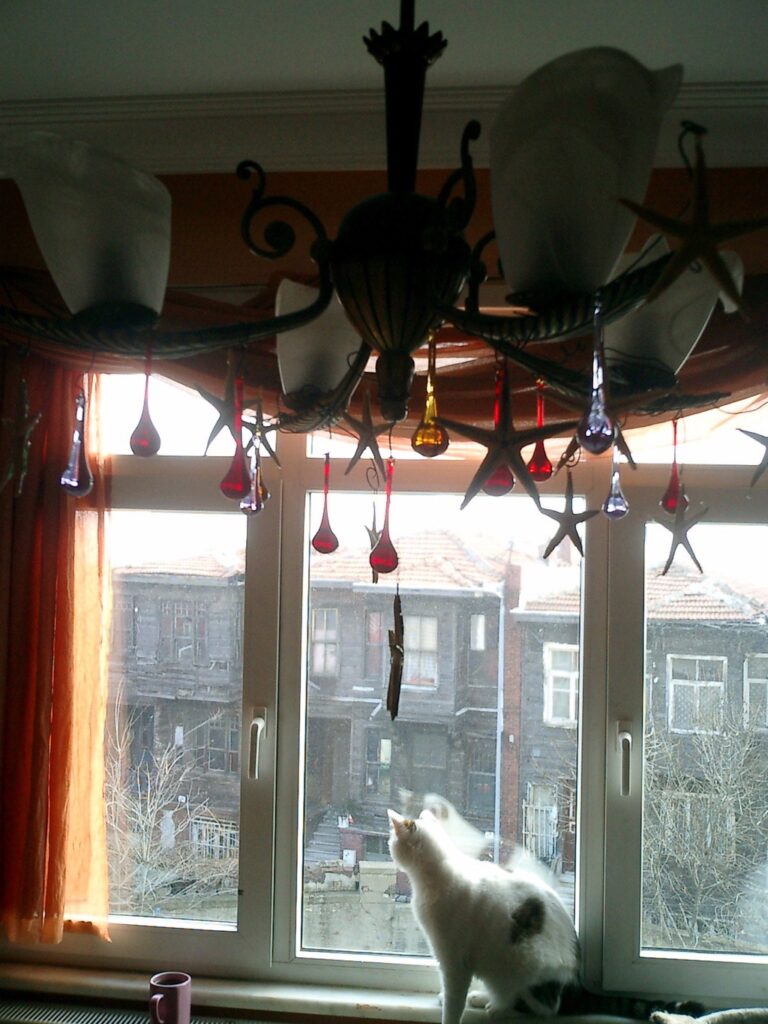 CATS IN THE MORNING

After a summer of bullying and financial terror, I'd enjoyed a wonderful holiday which reminded me of who I am. So I found a fine apartment far from creeps and moved into it. My balcony and bedroom overlooked the old Orient Express rail line, the ruins of the Boukoleon Palace, and the Marmara Sea. Then Obama won the Presidential election. My cup ran over on this splendid day, spend lounging in the new bedroom with the new view, the cats, and a good book by an old cohort.

The Boukoleon Palace was built by the Iconoclastic Emperor Theophilos in the 9th century. Originally clad in vivid multicolored marble, later studded with statues, it rose up out of the sea, ships sailing right up below its stunning portals. We can glimpse one of them from the back of this surviving colonnade. The Palace was burned by 4th Crusaders in 1204, dynamited by the British in 1871 to build the Orient Express, and semi-demolished by the Turkish Republic to build the highway in 1962. Now it's a dog run.
NIKKI WILD

THE STABLE GATE

A Turkish friend, seeing this, said, "Oh, THAT guy. I know THAT guy!! Everybody in Istanbul knows that guy. Back in high school, no scene, so lame, but there was that guy!! Nikki ran for years the cleanest rock club in Beyoglu. I hope he's happy.
SNOWBALL FIGHT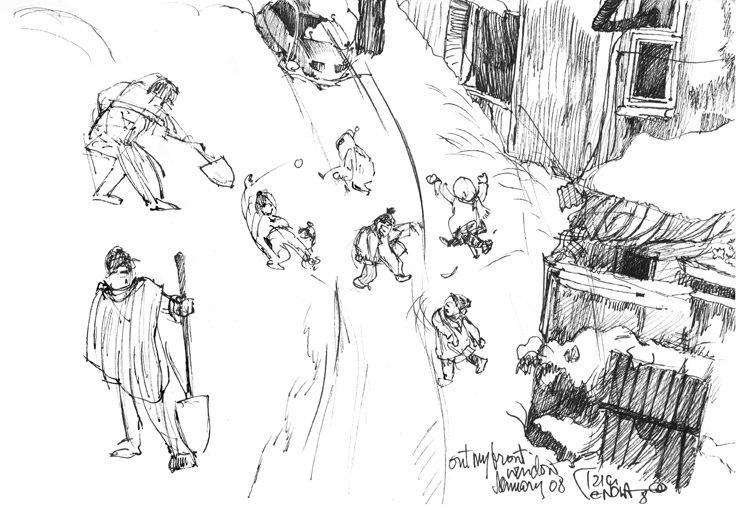 Spectral light over the Marmara out my back window, with the snowball fight in front. O this was a happy time!
ZDRAVKO
All the diverse elements of Istanbul: the 4th century Byzantine sea-wall, topped by 15th century Ottoman turrets, the modern art and highway, the massive ship sailing the Bosporus. Why not a ghost? He's drawn into the wall at left, above the arch.
ALI SANCI & MIKE DJINN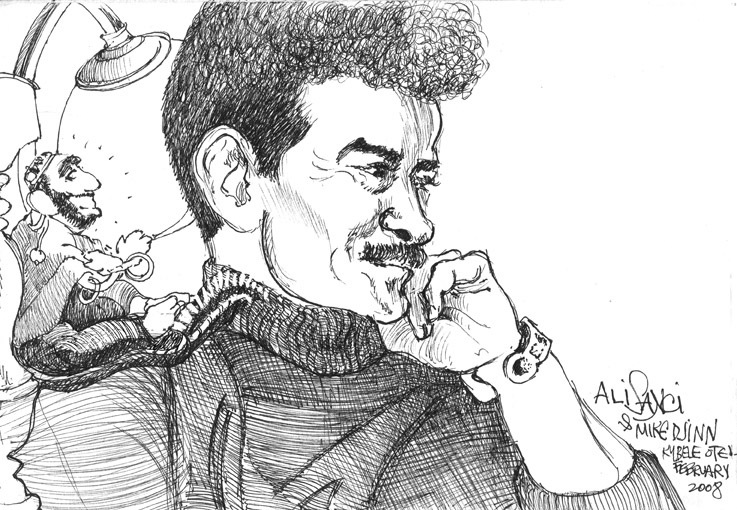 Old friend Ali Sanci now lives in Germany but comes often to visit old friends in Sultanahmet. The Djinn is a Christmas present I made for Mike, former owner of Kybele Hotel. It's designed to hang on the Kybele Christmas tree, but they left it up all year.