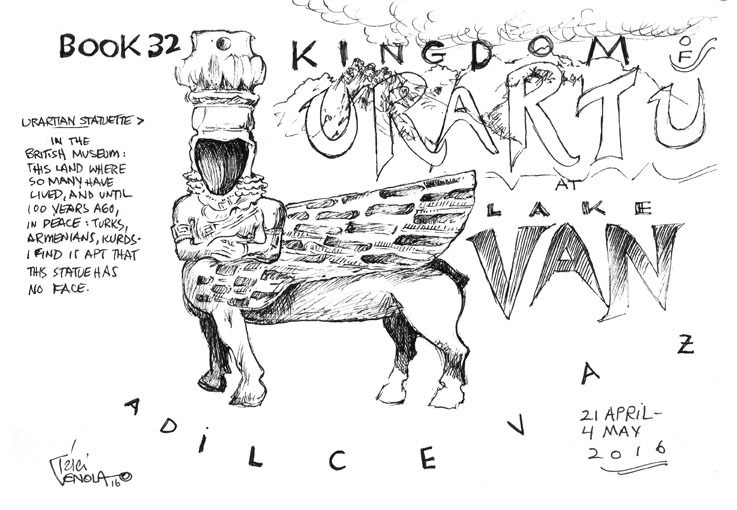 Project inception: Old friend Celal Ögmen, proprietor of Kalamar Restaurant in Kumkapi, asked me to go to Van Province in Eastern Turkey and draw his mother's village. It's A Suphan, a tiny town above Suphan Dag (Mountain), near the city of Adilcevaz in Bitlis Province, to the west of Lake Van. I learned that Lake Van was the centre of The ancient Kingdom of Urartu, a civilisation that flourished 3-4000 years ago. We know it as Ararat.
SUSPICIOUS AT THE AIRPORT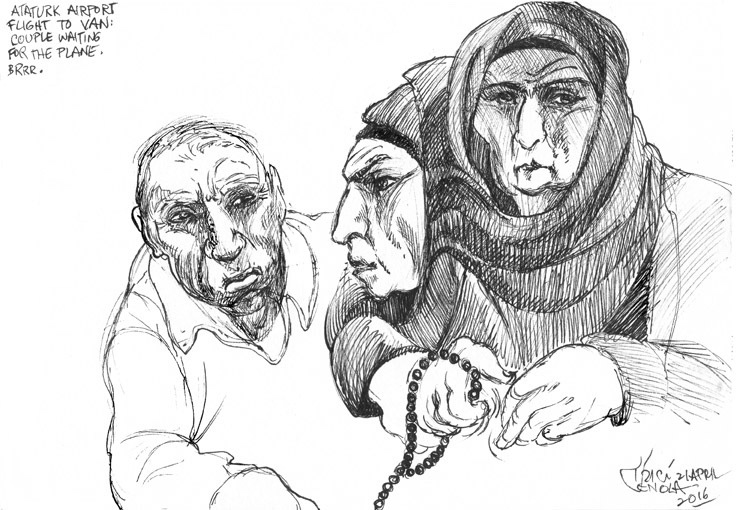 Brrr. Sneaky People.These were the only sneaky people I saw on the entire trip. The girls in the next photo are in traditional dress for Childrens' Day.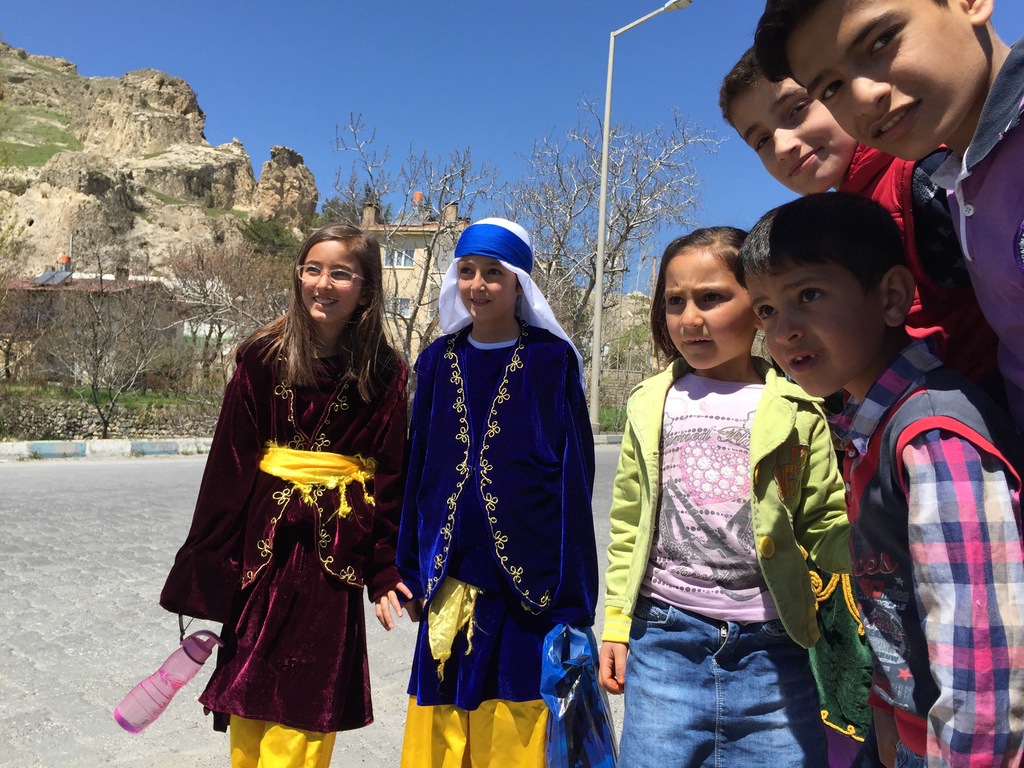 ARABIC WRITING & SALIHA

Had to draw Saliha this lovely woman on the bus. — I don't think anyone had ever drawn a picture of her before, and she was happy. The Arabic writing is carved in a stone wall inside the mosque on the side of Kef Kalesi, in Adilcevaz on the Western shores of Lake Van. It and the mosque are about 700 years old.
KEF KALESI ADILCEVAZ
This majestic ruin of an ancient city permits an entire mountain rising at the edge of Lake Van. Archeologists have removed ancient artifacts to the museum in Van. Each terrace held houses, and the rooftops of one level were the balconies of the next. At right, you can see fragments of old stonework, traces of huge arches and passages. At centre is Ulu Camii, a 700 year old mosque with a modern glass minaret. Sheep graze below what must have been the fortress an entire village.
KEF KALESI FIRST LOOK

My first look at Kef Kales: As I drew I was stunned to realise it was ancient stonework rising out of the mountain behind the house at right. At left are snow-covered mountains in Iran, across Lake Van.
CEZAYIL IN ADILCEVAZ
Cezayil, pronounced "jez ZILE" is the chef in charge of Hotel Cevizlibag's kitchen. He and his staff took excellent care of me.
OLD MOSQUE INTERRUPTED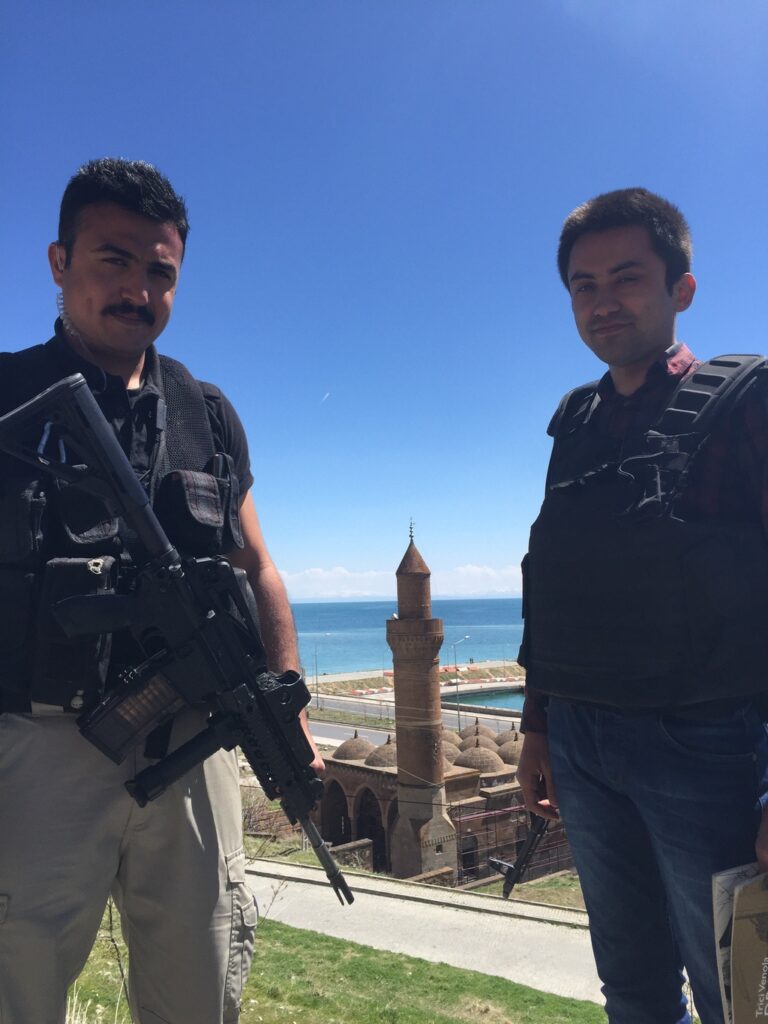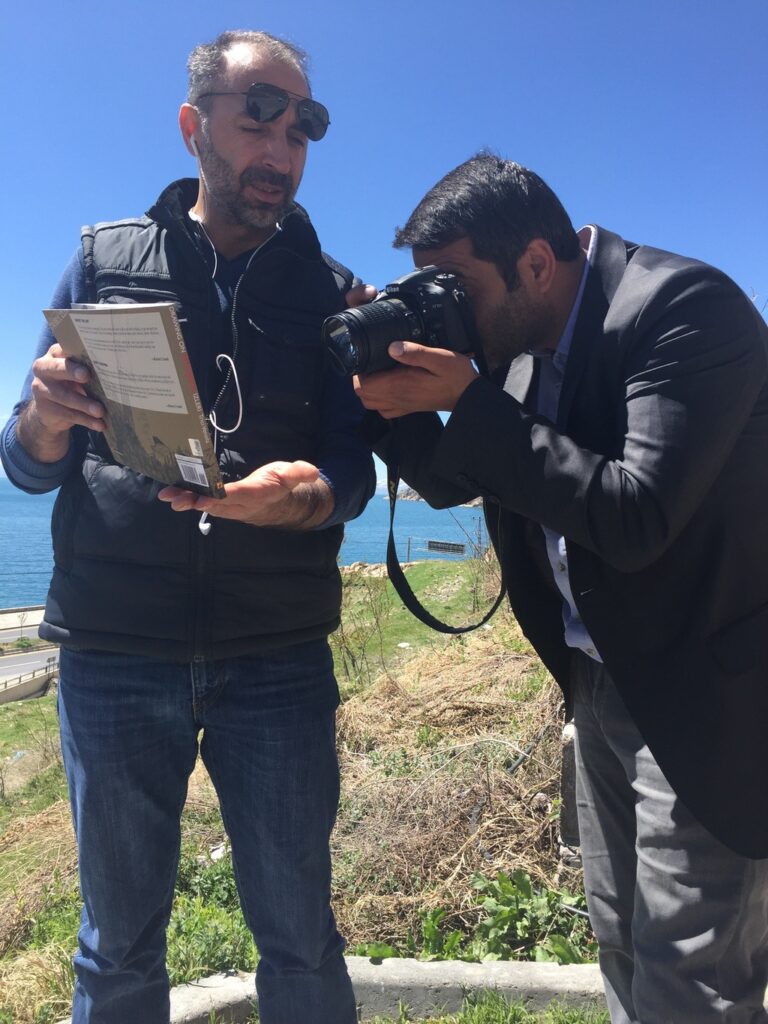 Much bonhomie with onlookers , and then came a TV news truck, with cameramen and news anchors, interviewing me with much help from Google Translate. Hardly anyone in town speaks English, and my Turkish is limited. By now there was a perfectly huge group of excited people and it was impossible to draw anything but them. Lastly arrived a long black car with the mayor. He was charming, considering that I had pre-empted his own interview. They don't see many artists in Adilcevaz.
OLD MOSQUE ON THE WATER

I don't know how old this mosque is, but it pre-dates the highway by a couple of centuries, judging by the depth of its entrance. In the background is Lake Van, ringed by snow-whitened mountains. Abdullah and I sneaked back after the crowd left, and I got this drawing in a couple of hours. The date is a private anniversary.