Highly Detailed and Captivating Drawings
Trici Venola explores Turkey, a fascinating and dynamic country at the crossroads where East meets West. As an independent artist, she arrived in Istanbul in 1999 after fifteen years in Los Angeles as a pioneer in the exploding computer art industry. She fell in love with Turkey, and in reaction to those years wrestling with the complexities of creating art on computers, she drew it with one drafting pen in a sketchbook. Her love affair with Istanbul involved a divorce, a catastrophic illness, a death, a broken heart and financial ruin. She moved here anyway and started over again from ground zero at the age of fifty.
Trici learned to draw old stone and the people watching her do it. She learned about the Byzantines, the Ottomans, the Turks and ancient Anatolian civilizations. Trici started by celebrating this place and wound up documenting it before it changes forever. She does this through thousands of drawings of the people, architecture, history and culture of Turkey and its neighbors, ultimately crafting a giant multifaceted portrait of this place over the past twenty years.
This website showcases Trici's body of work, giving you the opportunity to take part in her ongoing exploration. Many of her thousands of drawings have been carefully curated and made available as high-resolution digital downloads. They are available for purchase at reasonable prices.  These meticulously drawn works can be admired onscreen or professionally printed and framed. By buying one or more, you not only have a beautiful elegant and unique asset for to your home, office, or gift, you also become a patron of the arts by supporting the Drawing On Istanbul Project. And we thank you!
Start your journey today and come back often, as this website is a living entity, always changing as more and more of Trici's artwork and writing become available for your enjoyment.
This error message is only visible to WordPress admins
This endpoint has been retired
Error: No posts found.
Make sure this account has posts available on instagram.com.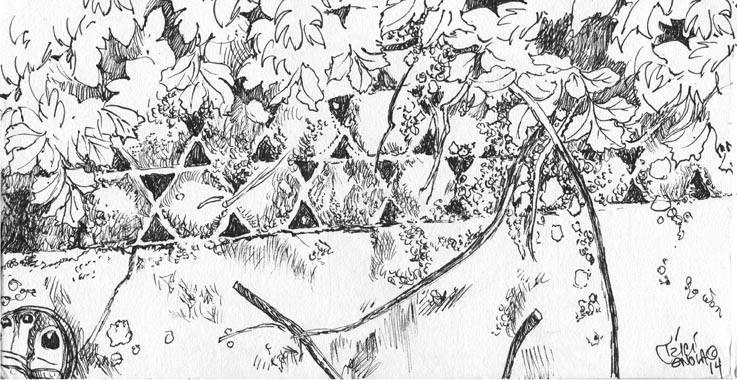 A huge fire in Constantinople burned so fiercely that the lead sheets on the top of Hagia Sophia melted, it was said, and poured like rain. Fervent prayers to St Sampson preceded a deluge of real rain that put out
Read More »