OTTOMAN CUTOUTS
HAPPY KRASI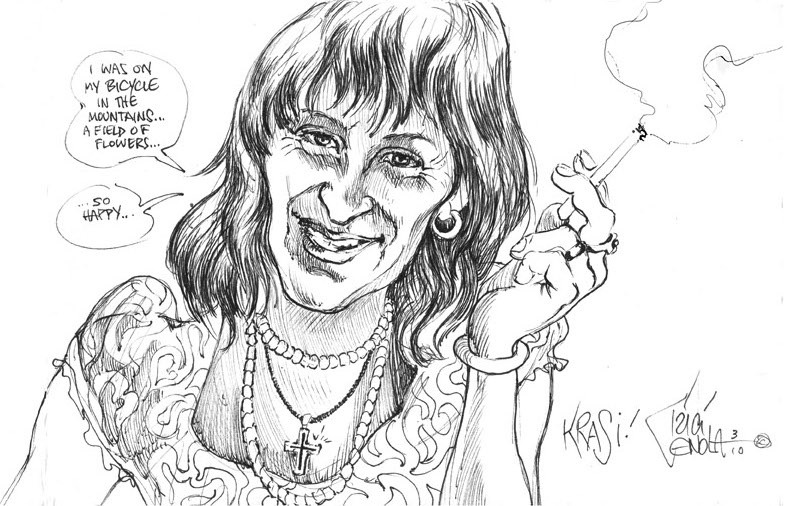 I met Krasi on my second trip to Plovdiv years before this drawing and just loved her. This turned out to be my last trip. I hope you are still happy, dear Krasi!
Back in Sultanahmet with the usual suspects.
DRAW MY PEECHOR
DEAR ÇETIN BEY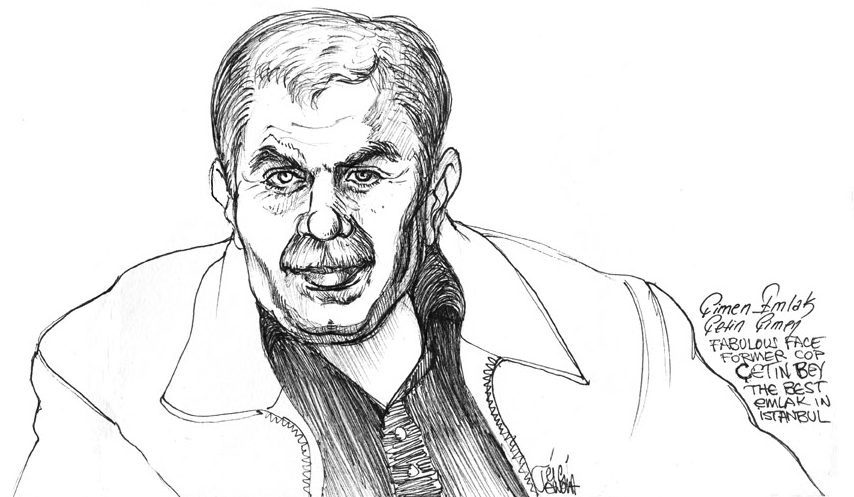 A real champion. I had to leave my beloved Sultanahmet apartment thanks to airbnb, which had also driven rents up alarmingly, so I moved across the Golden Horn where I knew nobody. This wonderful emlak (realtor) found me a good place and a good rent. A prince of a guy. He's since retired, and I hope he is happy.
COOL ON A HOT NIGHT

Gulsun is the manager of a very cool cafe in Tunel. I no sooner met her than I had to draw her.
USED TO BE HOT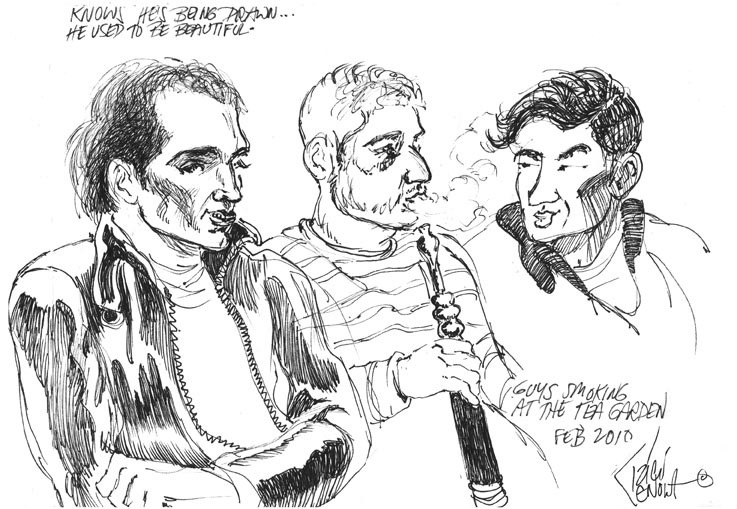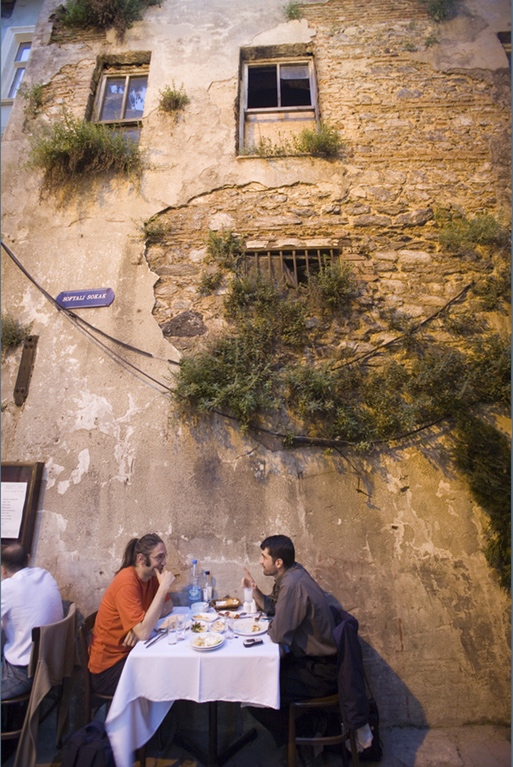 A WALL IN ASMALIMESCIT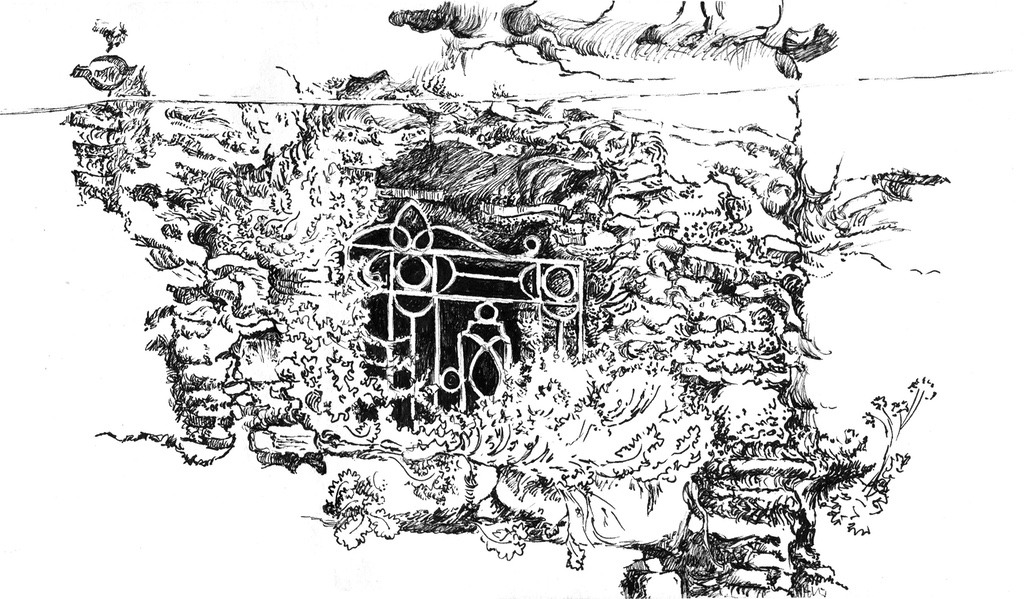 In 2017, I actually hauled out this old sketchbook and hoofed it over to Asmalimescit to finish drawing the wall, only to discover it had already been smoothly plastered into something like plastic.
ISTANBUL ROUE

-Huseyin -On Istiklal Caddesi while drawing After -TriciVenola ©2010
A break during work on a commission to draw Arter Art Museum, shown below.
ARTER TOP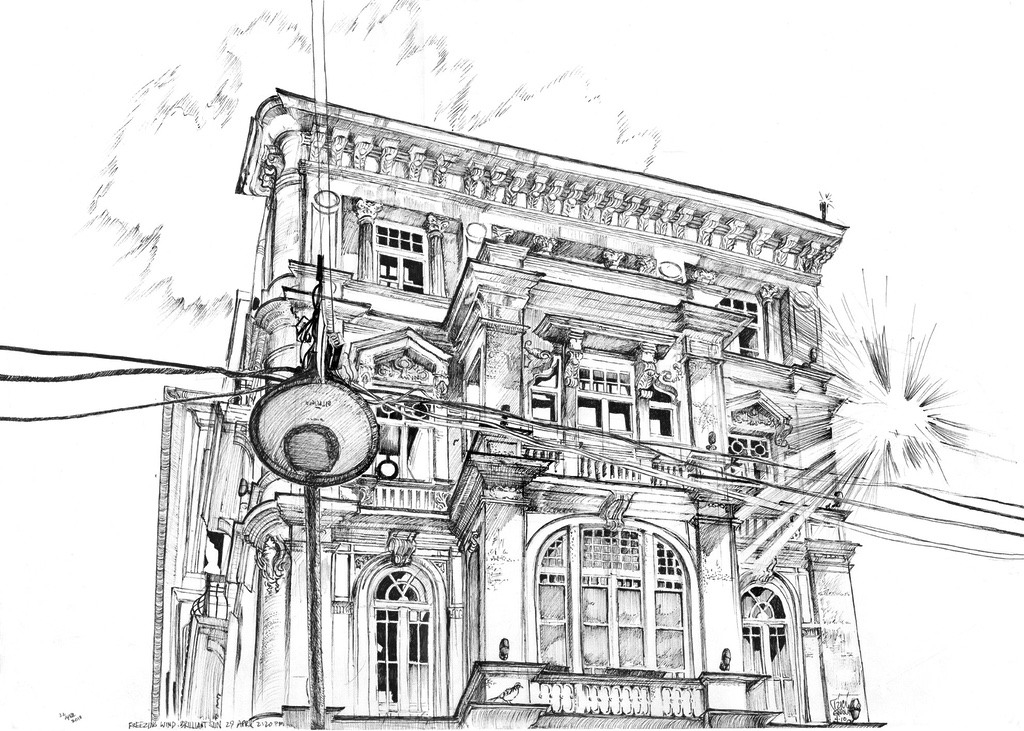 Hard on the heels of the move from Sultanahmet to Cihangir came a fine commission to draw Arter, the Koç Foundation's new modern art museum on Istiklal. It was in a grand old building that had housed one of their banks. It was far too large and detailed to fit in a standard sketchbook size, so I went with a triptych: three 50 x 70 cm boards. I set up in across the Istiklal from Arter, and went to work. Here's the top.
Each drawing is 50 X 70 cm, about five times bigger than the sketchbook drawings.
ARTER MIDDLE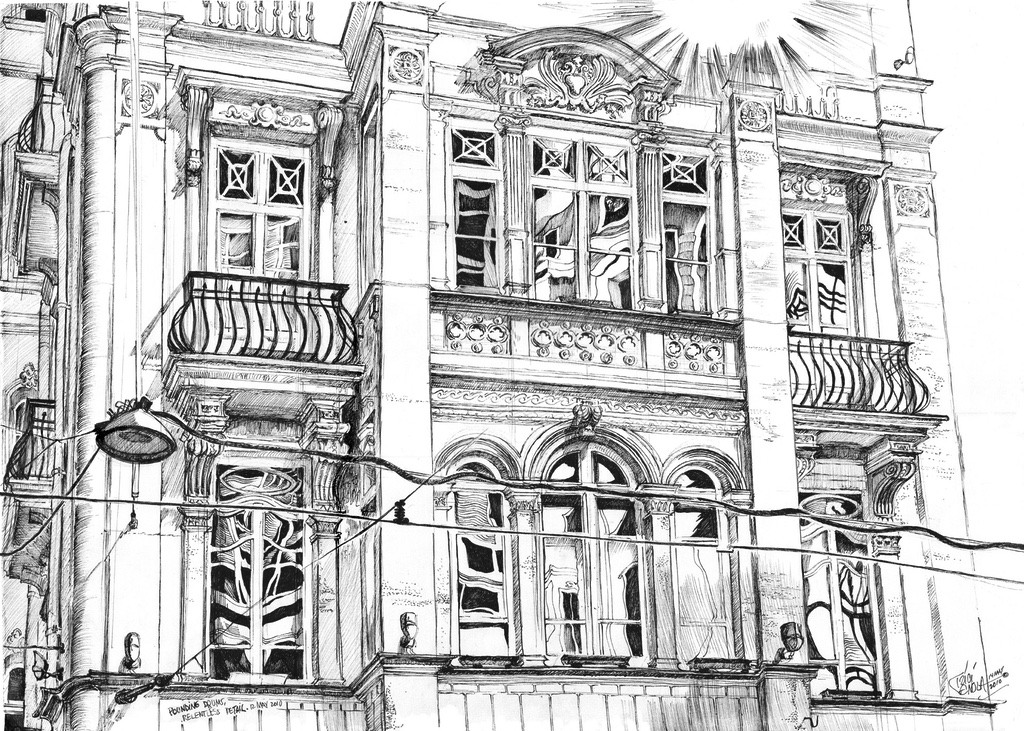 I love to do portraits, and all my Turkish work is portraiture: a picture of a person or a place, or both, at that moment in time. So the reflections on the windows, the streetlamps, the trolley lines, and the passersby are all part of this portrait of Arter when it opened in Spring of 2010.
ARTER BASE
This ornate Ottoman Splendor architecture is the hardest thing for me to draw. It's unforgiving, any mistake compounds right across the page, demanding total concentration. So this last, with the people walking between me and the base of the building, was a lot of fun. They're all actual passersby and those who posed enjoyed being part of a drawing.
Arter just relocated to Dolopdere. The building is still there on Istiklal.
OWL WOMAN ON ISTIKLAL

More fast takes on Istiklal passers-by, done to relax during the Arter commission.
[DISPLAY_ULTIMATE_SOCIAL_ICONS]