BLACK LEATHER JACKET

-Billal at 18 in his first black leather jacket.-"I'm going to live my life." -TriciVenola ©2010
A cousin of Momo's from Afghanistan, working the Grand Bazaar.
RAFI IN CIHANGIR

Hey, Rafi! If you're out there… I have no recollection of doing this drawing! Where was it? Thanks…
THE TRAIN AGENT

Off to Bulgaria again on a visa run. Akif here was always a prince. Hope he's enjoying his retirement.
AKIF AT THE TRAIN STATION

This is the old Sirkeci Train Station featured in Agatha Christie's "Murder on the Orient Express." Christie used this train station, but the one in the famous 1974 movie, while identical, is in Paris. I had to leave every three months for Bulgaria to renew my visa. It was always a trial, and I grew quite fond of Akif as he was always a help. The train station is now a museum.
A PAUSE ON THE BRIDGE

SNOW CAFE IN PLOVDIV

Back in Plovdiv for my visa run, at my favorite cafe with the trees growing up through the roof. This time the ice was so fierce, and my old boots so slick, that I couldn't venture far from the cafe.
AN ICE CHURCH

Marooned in the snow, I couldn't light candles for my loved departed, so made do with a drawing.
SELF PORTRAIT: SNOWING IN PLOVDIV

SEREF AT COCOON
Famed tribal arts dealer Seref and a piece of fancy stitching.
TRIPLE WINDOW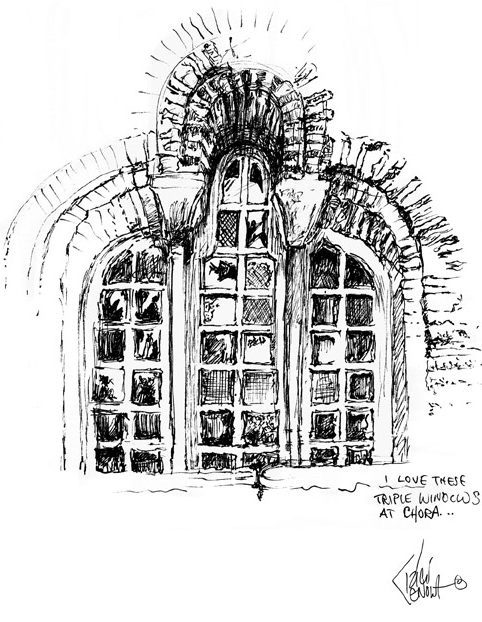 Holy Trinity windows: The radiating brickwork, said the Byzantines, represents the Divine Radiance emanating from the church, while the two pillars of the window are SS Peter and Paul holding it up.
THE BIGGEST NOSE IN THE WORLD
I kid you not.
[DISPLAY_ULTIMATE_SOCIAL_ICONS]