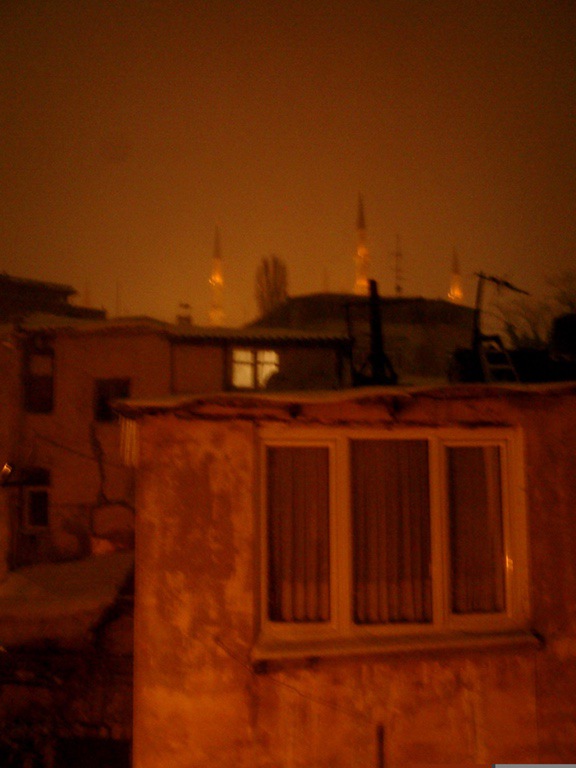 BOUKOLEON CITY OF SHIPS

A festival of lights every night.
EASTER AT THE PARSONAGE

Spring at last! Retiring Coca-Cola executive Chris Gaunt (at left) relaxing with Pastor Ian Sherwood after a fine Easter luncheon.
MEHMET & TOMMY & THEIR MILLION-DOLLAR VIEW

Mehmet lived in one of the Byzantine towers until the Belediye let him move into a prefab house perched on the walls, overlooking the highway. It had been built for Barack Obama's 2008 visit, for the sniper guards. Mehmet had been in Sultanahmet for years, making a living anyhow. He was happy to move into the house, which had electricity and an indoor toilet. Tommy from Rize was charming and cool, despite awesome burn scars. He rode a hi-end bicycle, spoke English, and I never saw him without his sport gloves and shades. The two of them shared a nargile with me, many a time there at the fabulous view. Thanksgiving 2008 was Kurban Bayram. Tommy, crawling around in the ruins, had found two Byzantine coins and sold them to the museum. With the money he bought a cow, a whole cow, and invited all the homeless in all of the walls for Iftar Feast, knives flashing in the sun, smoke in the wind. He said it was time to leave, as he was 30, and he had to go home to Urfa and get married. A year later I wandered up the path looking for them. The house was padlocked shut, but when I walked around to the view, there was a nargile pipe, and a pair of Tommy's gloves.
BOUKOLEON ARCH FAST TAKE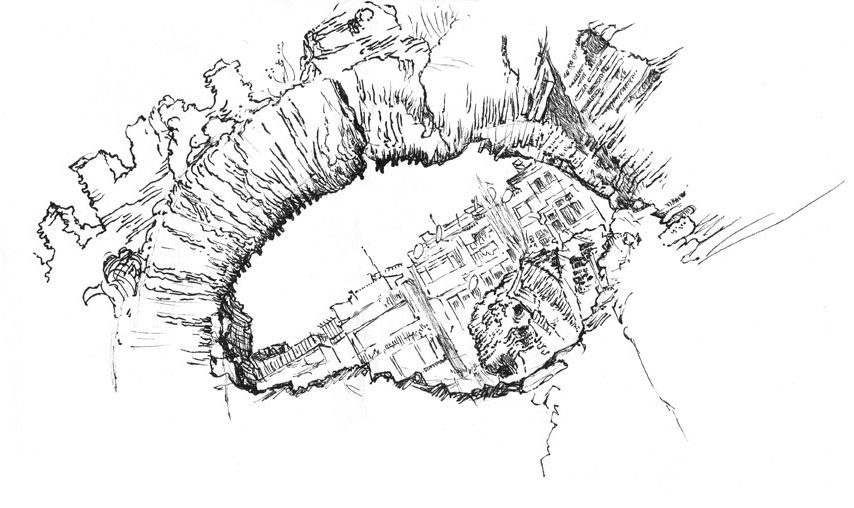 I quickly realized this was going to take a lot longer than I'd thought. A year later I spent two weeks every day, drawing it.
[DISPLAY_ULTIMATE_SOCIAL_ICONS]