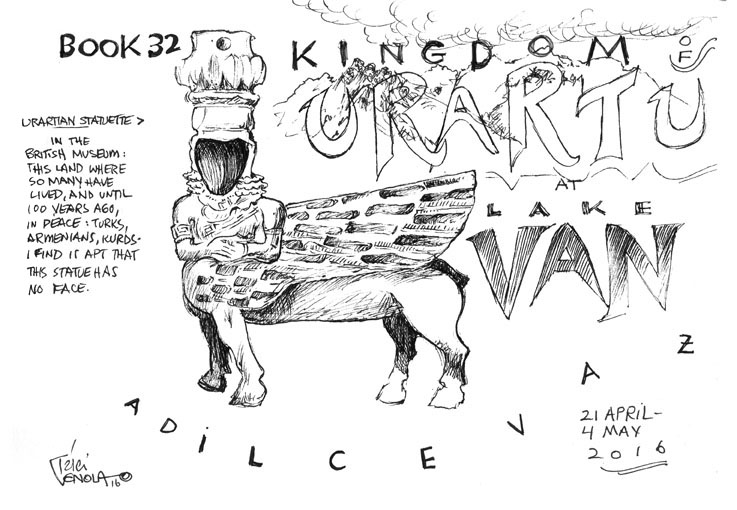 Old friend Celal Ögmen, proprietor of Kalamar Restaurant in Kumkapi in Istanbul, asked me if I'd like to go to Eastern Turkey and draw his mother's village. As a teenager, Celal came to Istanbul and took a job at a fish restaurant, inveigling tourists in several languages to please come inside. He worked his way up and eventually bought the restaurant, which now employs many people from his home village. It's A Suphan, a tiny town above Suphan Dag (Mountain), near the city of Adilcevaz in Bitlis Province. This is to the west of Lake Van, which was the centre of the ancient Kingdom of Urartu, a highly advanced civilisation that flourished several thousand years ago. The name "Urartu" is all over the region— affectionately, on restaurants and car repair shops and dry cleaners, and with respect, in song and legend as well. It was mistranslated in our oldest Western literature. We know it as Ararat.
Celal had put me up at his cousin's comfortable hotel, Cevizlibag, in Adilcevaz. I had no clue that it would be next to such ancient magnificence. I looked out over breakfast that first day and saw a craggy hill beyond a house.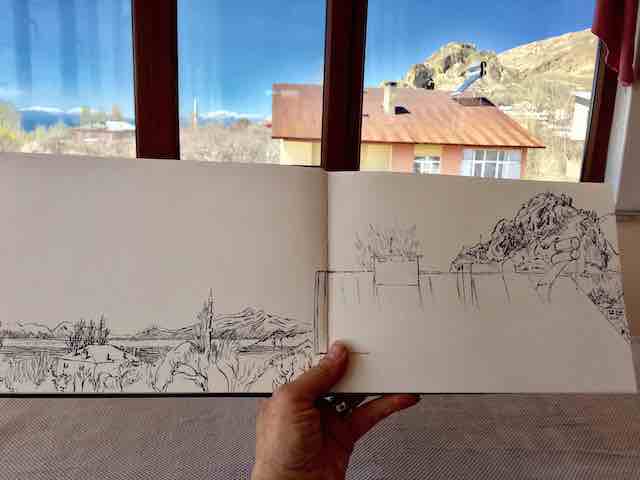 Squinting, I saw traces of stonework, very old stonework. I drew it, but what was it? Hotel Chef Cezayil enlightened me. I couldn't wait to get down there and draw more.
Abdullah got us over to Kef Kalesi, and I set about drawing across from the mosque, looking down at this one on the shore. It was a Friday, and all the old men began to arrive at the mosque to pray. Curious, they soon surrounded us. Then the police arrived, to see what we were about. Much bonhomie with them. I quit drawing the mosque and started drawing the police. A TV news truck arrived, with cameramen and news anchors, come to interview the Mayor on a visit to the mosque, and wound up interviewing me, with much help from Abdullah and Google Translate. By now there was a perfectly huge group of excited people converging on one small sketchbook. Into this came a long black limo, and out of it stepped the Mayor. He was charming, considering that his interview had been pre-empted. They don't see many artists in Adilcevaz.
2000-780 BCE, give or take a few centuries. The culture of Urartu flourished here for thousands of years, frequently at war with Assyria, but vanished aeons ago. Locals believe Urartians are the ancestors of the Armenian people. The town is proud and proprietary of their ruin, as well they might be. There was much intermingling between Turks, Kurds and Armenians before politics began to interfere, around 1900, and now there is again. This drawing took two hours and was witnessed by groups of giggling schoolchildren, dressed up for Childrens' Day. I realized that I could easily spend the whole time in Van drawing this particular site. But at the time, I couldn't get up those steep slopes to wander in the ruins themselves. See the figure just right of center, standing on the hill with arms outstretched, taking in the whole world of lake and white mountains and cold clear air. How I envied him!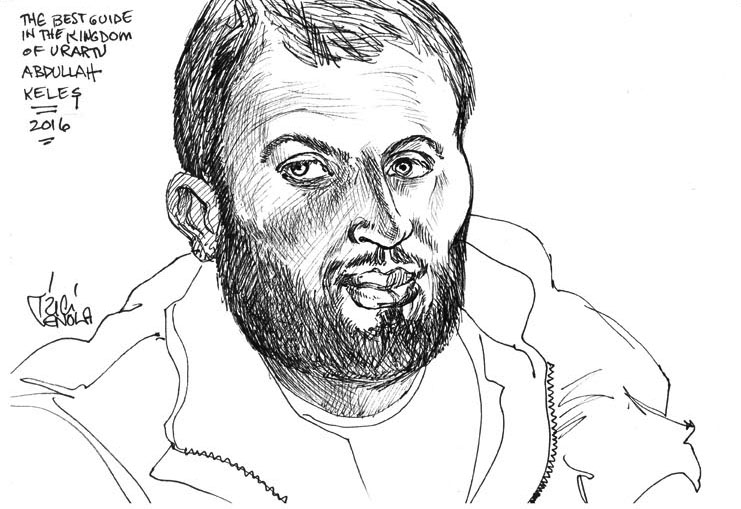 These doors lead to tunnels going throughout the mountain. In addition to the usual rumors of treasure, Abdullah told me that they are well-explored by archeologists. Archeologists have removed everything ancient and portable to the Archeological Museum in Van.

Life-sized: A flock of stone sheep at the Archeological Museum in Van. It's closed for renovation. These are out front in the sculpture garden. I think they're of Urartu: c3000 years old. And at right, the lions lie down with the lamb.
How may mothers' sons have been bundled up and set on these to play? In three thousand years?A saddled mystery mount, carved dagger on other side.
Actually these stone sheep are described by the Museum's webpage as tombstones, which were gathered up in the 1930s by the Ministry of Education. They are indeed from Urartu. During a fast trip to Van with Abdullah and his wife Derya, Here's their son Ahmet Karen playing on them. Check out the close-up at top left: If that isn't a man with a shield and a Kangal dog, I don't know what it is. The museum, which was being repaired after an earthquake, has since re-located, and I can't wait to go back and see more.
[DISPLAY_ULTIMATE_SOCIAL_ICONS]