Ghosts of the Flood

In the centre of an immense green haven; improbable pink bushes— absolute peace… shepherds, Kangal dogs, mooing cows, drifts of conversation from the guides away over the grass. These are Armenian churches.
One of the happiest drawing experiences ever. Abdullah and his pal wandered away and left me blissed out and drawing for a couple of hours. They said that yes, the area to the left and behind the ruined church at centre is another settlement. The dark hill at left was covered with those salmon-pink bushes. At top right, reflected sunlight arced up from a hamlet hidden behind the hill. To the right, another hill sloped up to heavily eroded rock formations, caves in the corrugated stone folds.

Squint at this hill and the scattered rocks and bushes become sea-foam, drenched survivors creeping out of the caves, staring at the receding waters. Down through the valleys, Lake Van stretches shimmering to the white mountains, floating in their mist across the border in Iran. As I drew, Abdullah brought me this fossilised seashell. The Flood.
Can't you just see it?
I still have the fossil shell. It's got a bit of actual shell attached, but most of it is solid stone. These are the rock formations up the hill to the right as I drew the ruined Armenian church on the mountain.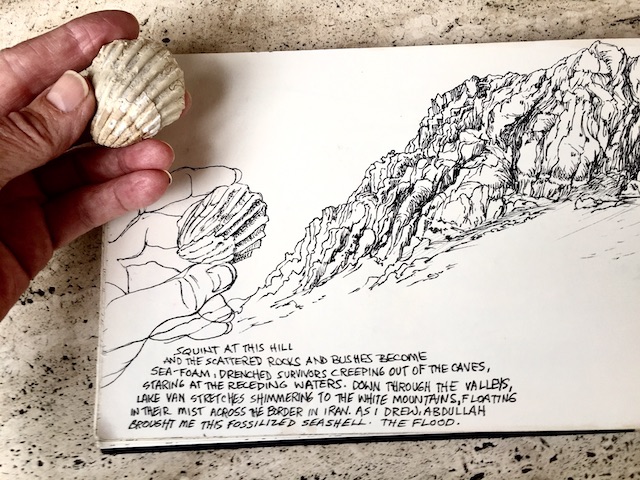 [DISPLAY_ULTIMATE_SOCIAL_ICONS]