JONAH AND THE WHALE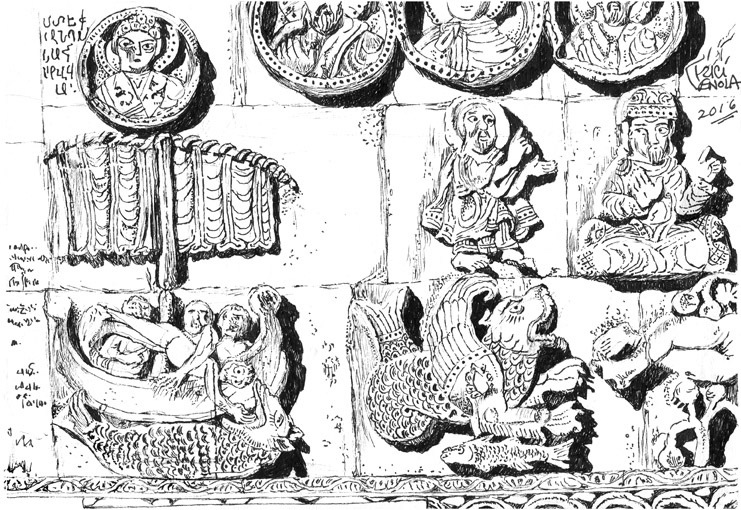 That's Jonah and his mates in the ship at left. "Whale" is an English translation. Other interpretations refer to a "Monster." I could easily spend a year drawing all of the stories on this church.
APOSTLES AT HOLY CROSS

Inside the church, the art looks much more recent. Also it's unfinished, and the interior shows signs of fire damage. The pale shape at centre is a window. To the left is St Peter, to the right is St Paul. Ss Matthew and Mark appear to St Peter's left, and Ss Luke and John to St Paul's right. Other apostles flank them. Above the centre window, the artist had outlined the border, but hadn't finished painting it in. As the church was shut down and the monks massacred by Ottoman troops in 1915, I think the frescoes date from then.
JACOB AND THE ANGEL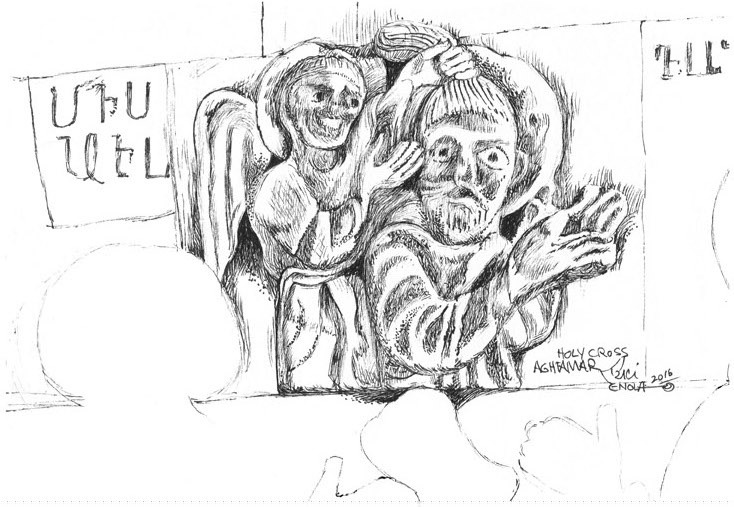 DANIEL AND THE LIONS
A tall smiling man, flanked by two lions, tails between their legs, and they are licking his feet. I love this treatment of Daniel In the Lion's Den.
BUNNIES & GRIFFINS & BEARS OH MY!

A shot-up saint over a zoological stack of fabulous creatures, with two happy bunnies in the centre. The rabbits are indigenous to Akdamar Island, and to many other islands nearby. Most of them are black, a hallucinatory hippity-hop among the rocks and seagulls. Torn-up celery and lettuce for the bunnies line the tourist walkways. Centuries of monks must have dined on these rabbits, worn their fur and probably made pets of them as well. They are accompanied by white goats and gulls.
DAVID & GOLIATH FOR PHOEBE
Taken from right next to the wall. I always wished I could have taken my friend there. She would have loved the irony of such humour and light carved in stone. And God knows she wielded her slingshot all her life with grace and skill, slaying many giants.
MATRIARCH AT AKDAMAR

This lady and I had some conversation on the boat coming over. She was unable to navigate the steep path up to the church, so I drew her inside it. Al her children and grandchildren are doctors and dentists. She has a beautiful smile!
ADAM AND EVE AT AKDAMAR

This last date refers to when they were carved. Note that Adam and Eve were carved sans gentitalia. Despite damage by vandals, both still have curiously benign expressions. Down in the lower right corner is a an eviscerated female figure. The vandals left the snake alone, perhaps for professional courtesy.
THE MONKS OF HOLY CROSS
Oh it is remote. Dead silent, miles of pale water between you and the shore, no electricity, freezing in winter, much discipline, much work. What the monks lacked in creature comforts was replaced by the absolute luxury of their art and craftsmanship. There was a library here, and perhaps manuscript illumination, as well as the carved bas-reliefs, the paintings, the stonework. These gravestones are from many centuries and surround the church. Some have been knocked down, others broken or eroded, but each intricately decorated tombstone, created with patience and care, celebrates an entire life dedicated to faith.