ABDULLAH KELEŞ
The best guide in the Kingdom of Urartu, Abdullah Keles 2016.-©2016 TriciVenola
—
A super guy who showed me things I hadn't known to ask about. He and his wife Derya took me all the way to Van to the museum there. We couldn't chat much but did fine with Google Translate. Like everyone in the region he's a whiz with technology.
SEVILAY
She has a tidy and clean little restaurant in Adilcevaz and served us wonderful food.
STONE SHEEP IN VAN

Abdullah and Derya's adorable two-year-old playing on the sheep. Check out the close- up at top left: If that isn't a man with a shield and a Kongal dog, I don't know what it is. The museum, which was being repaired after an earthquake, has since re-located, and I can't wait to go back and see more.
KEF KALESI WITH SCULPTURE

My mother had been gone for 22 years, but I felt her strongly while I drew this. A brilliant day, and gazing up at and drawing the fantastic stone fortress, softened by grazing sheep, filled me with euphoria so strong it was hard not to stop and dance. The mosque's bricks seemed anticlimactic to such wonders, so I left it blank until I found a photo of myself in Van, standing next to the ancient Urartian bas-relief. From this very site, it shows what they looked like. They held their own against the Assyrian empire, but still vanished about 2700 years ago, succeeded by the Armenians.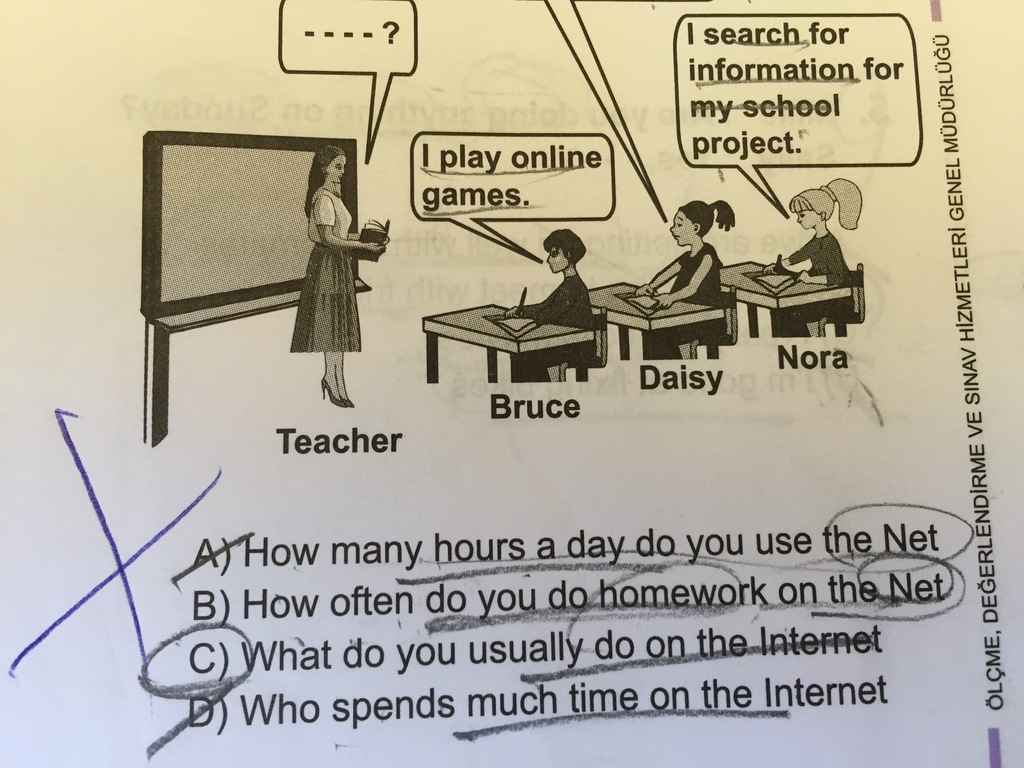 KARAŞEYH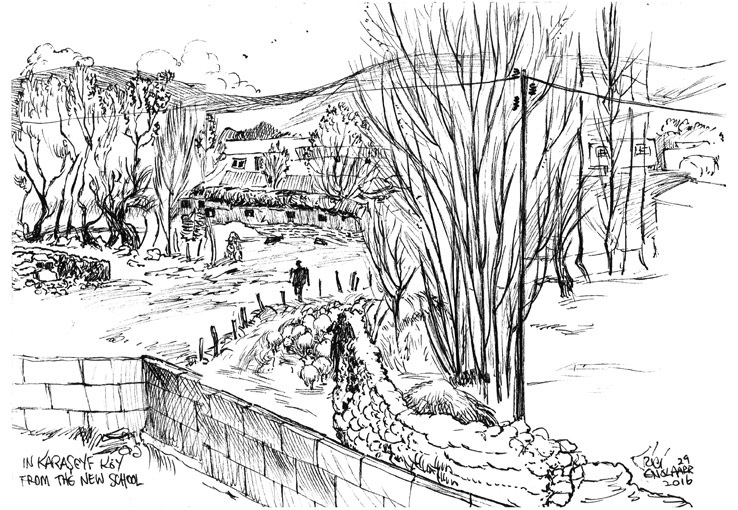 A shepherd brings the flock home past the raw bricks of the only school in three villages.
VOLUNTEER TEACHER
A volunteer at the school teaches math and history -©2016 TriciVenola
—
Although this school serves 100 students for three villages, there is not much money. This lady volunteered to teach math and history, since she knows the subjects, but I do not think she is paid. The principal of this school is Omer Keles, my guide Abdullah's brother. He is dedicated to educating these kids by all means available.
TEACHERS AT THE NEW SCHOOL

Esra was celebrating her 25th birthday with friends in Urfa. "We have to leave now," she said apologetically, "to get through Diyarbakir before sunset…" — Three villages, almost 100 children, a new school but hardly any money. It includes a daycare center, English lessons, clean big airy bright classrooms, and a dedicated staff of enthusiastic young teachers, including beautiful Ezra on her birthday. Ömer Keles, brother of Abdullah my guide, is principal.
HAPPY SHEPHERD

He dropped out of school- said he'd rather be a happy shepherd than study. He's ten. —
This was relayed to me by a dismayed Ezra. The kid refused to learn to read, even, and his parents allowed him to leave. But he and the sheep do look happy!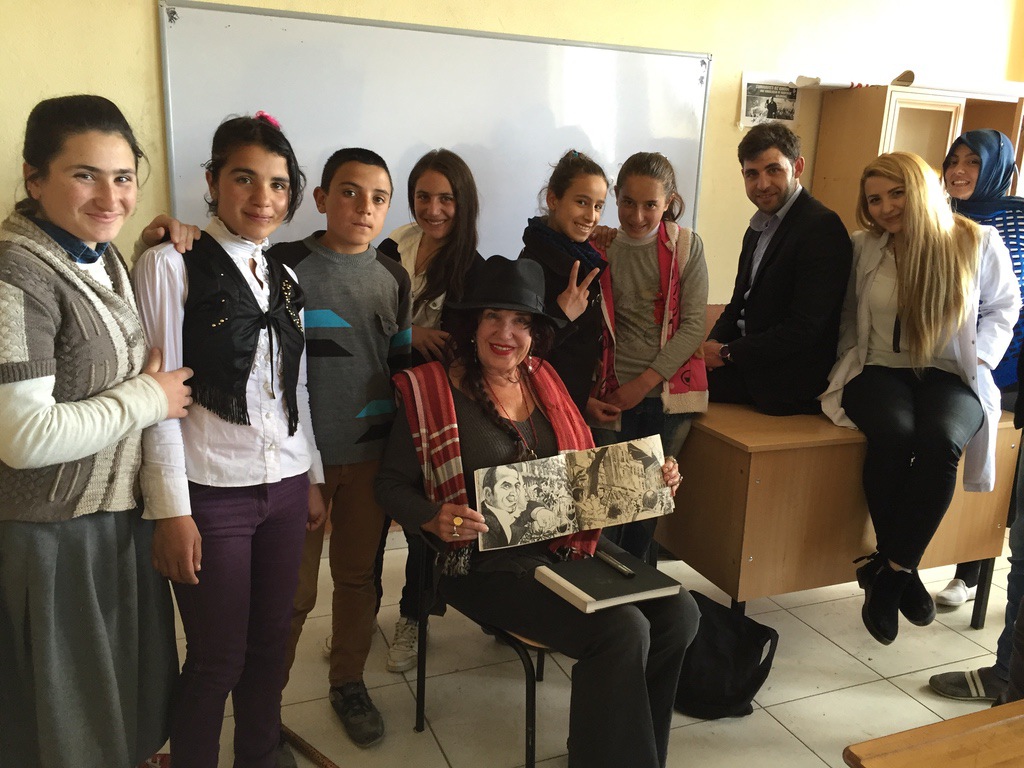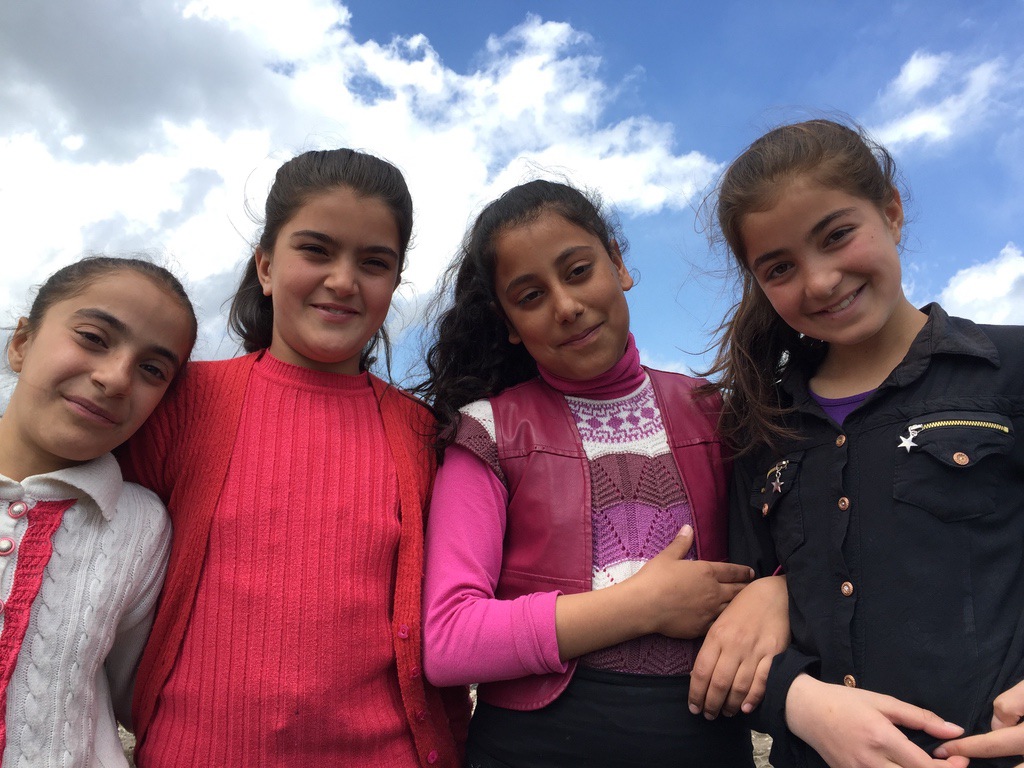 Semsattin owns a hat import business and occupies the house opposite the hotel, which looks out at Kef Kalesi and the lake. He's a friend of the hotel owner, and showed up well dressed and asked for a portrait. Normally I field such requests, but one look at that moustache, hat and demeanor made me change my mind. He gave me a hat!