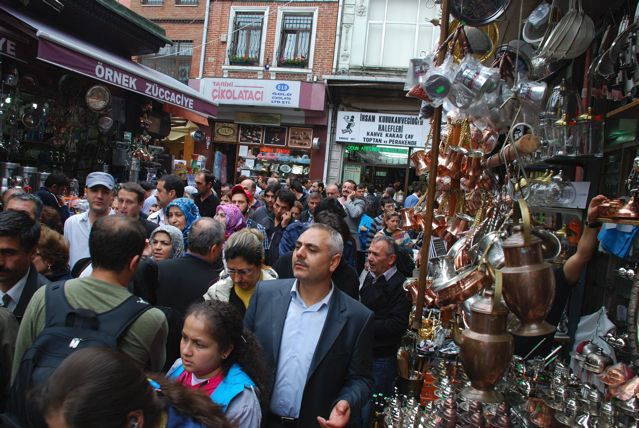 RUSTEM PASA & FRIENDS

Rustem Pasa Camii was built in the 16th century by (architect) Mimar Sinan. Like a Persian pleasure garden, it blooms at the top of many steps in the middle of Tahtakale, near the Spice Bazaar. It's the most beloved mosque in the area, much frequented by all and sundry, sweetened by several centuries of bright Iznik tiles. Mimar Sinan said that Suleymaniye Mosque, on the hill above, was his masterpiece, but that Rustem Pasa was his heart.
Finally got the perspective right. I love this drawing, but it was no fun to draw. Freezing, and no shadows. These are sixteenth-century hans, in their aged original state. Their beauty is not only a matter of architecture but of integrity. Think of the hands that set those bricks, think of the life seen through those windows.
SOUVENIR TILE FROM MECCA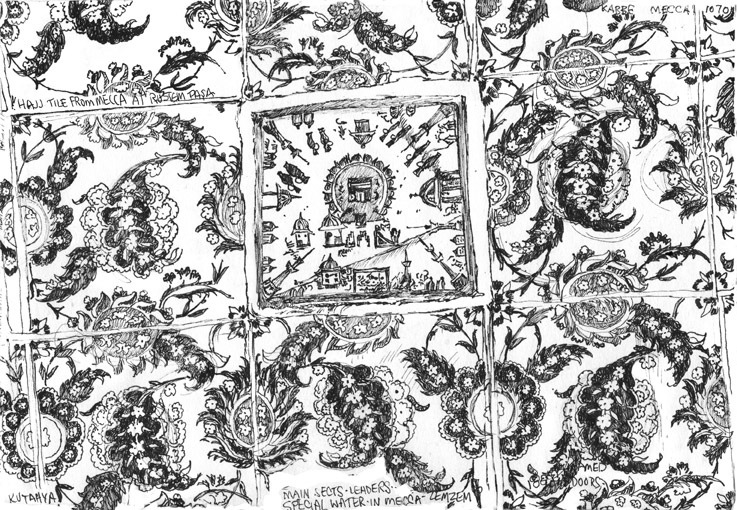 Everyone coming to pray stopped and smiled at me drawing this, including a tour guide who explained that it's a painting of Mecca: so many doors, olive oil cruets, minarets, and of course the big black Kaaba in the center. I can just see the Imam, 5 centuries ago, coming back from Haaj with this, and telling the workmen to pry out an Iznik tile at eye level and slap this one in.
INSIDE RUSTEM PASA

Since the Imam was nice enough to invite me into the mosque to draw, I caught this. I've always loved this grilled window, which seems to look out on the Middle Ages. While I was drawing, a couple came in the prayer door, clearly having a marital spat. They carefully worked their way around the mosque, staying quiet and respectful despite utter rage. I hope they worked it out!
CRAZY TILE & BABY FACE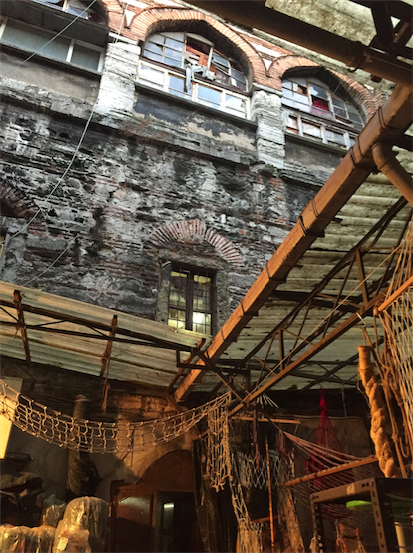 LITTLE FOREVER SHOP
It took a couple of days to draw all this, along with the cheery shop manager from Azerbaijan. There are a lot of shops that carry all the spices, but this one just goes on and on, rooms behind rooms, and downstairs is a Byzantine han ringed with more storerooms. Once there was a palace here, as attested by the stonework.
THE PATRON

When I drew this, I thought him unfriendly but it turns out he is simply hard of hearing. He's lovely. This is the patron of Sen Baharat, the Forever Shop in the Spice Bazaar.
THE FAMILY BUSINESS

Ucuzcular: Bilge "say it like 'Bill Gates'" was delighted at her store portrait. She set me on a stool in the corner next to the dried fruit and nuts with full grazing privileges. I had a swell time drawing for three days, and put on about five pounds. Bilge and her brother Ahmet are still going strong, as you can see by looking up "Ucuzcular" in Trip Advisor.