In 1999 I came to Istanbul for the first time after fifteen years in Los Angeles building computer art and fell in love. My love affair with Istanbul involved a divorce, a catastrophic illness, a broken heart and financial ruin. I moved here anyway and started over again at ground zero at the age of fifty and learned how to draw old stone and the people who were watching me do it. I learned about the Byzantines, the Ottomans and the Turks, as well as ancient Anatolian civilizations. Initially, I celebrated this place and eventually wound up documenting it before it changes forever. All my thousands of drawings of the people, architecture, history and culture in Turkey are one giant multifaceted portrait of this place over the past 20 years.
In 2017, after 18 years drawing this place, I was limping on a stick, stonewalled by my insurance company after trashing both knees in the snow two years earlier. In desperation, I asked a patron to talk to the insurance company. They wouldn't budge for him either. But then he performed a miracle. He sent me to the best hospital I've ever seen. They fixed my knees and treated me like the Valide Sultan, and now I can walk. I am so grateful to this angel, his country and the hospital that I've spent the past two years getting all this art from Turkey into shape, reworking the blog, and putting as much as I can up on this site. It's all I've got.
My name, short for Patrice, is pronounced TREE-see. I am indeed a writer and artist living in Istanbul. I used to be a digital painter in Los Angeles, my hometown, which colors everything I do now. This site is about living in Turkey. For years, I resisted anything that meant time on a computer. It's so addictive, and then there's my past.
From 1984-1999 I sat in one spot in the center of the computer revolution, staring into screens, surfing the technology wave, working twice as hard to dodge and surmount all the obstacles a computer puts in the way of creativity, learning how to embrace its double-edged attributes.
Eventually it all paid off. A Beach house in Venice, many friends, a good marriage and great Christmas parties. I traded all that for a sketchbook and some drafting pens. I don't have a day job because I survive on my art. I'm not affiliated with any organization or university, and I don't speak Turkish. It's like functioning with a large burlap bag over your head. But I draw this irreplaceable place, and the people here know that and love it, so I get along. For years I've been doing this project alone–I almost said Alone in the Dark, boo hoo– with the help of a few generous patrons. Angels all. Every single one has contributed mightily to this project. Thank you.
Official Trici Venola Bio
Los Angeles artist Trici Venola comes from a background of hi-profile digital art creation. From 1984-1999 she was a premier digital artist, lecturer and MacEvangelist. In the early days of the Macintosh, she authored a series of art software programs that raised the industry standard and attracted the attention of clients such as Disney, Apple, Super Mario and Paramount Pictures.
During the changeover to digital art in the entertainment industry, she was asked into the studios to teach their artists how to create art on a computer. She was one of the first digital artists to show her work in galleries. Her digital fine art was featured in magazines including the  premier issue of Juxtapoz.
In 1999 Trici Venola left the digital world to travel and draw in Turkey. She has been doing it ever since.
Her stories about Turkey have been published in Tales from the Expat Harem (Dogan, 2005), Best Travel Writing 2006 and Encounters with the Middle East (Travelers' Tales, 2006 and 2008.) She lives in Istanbul.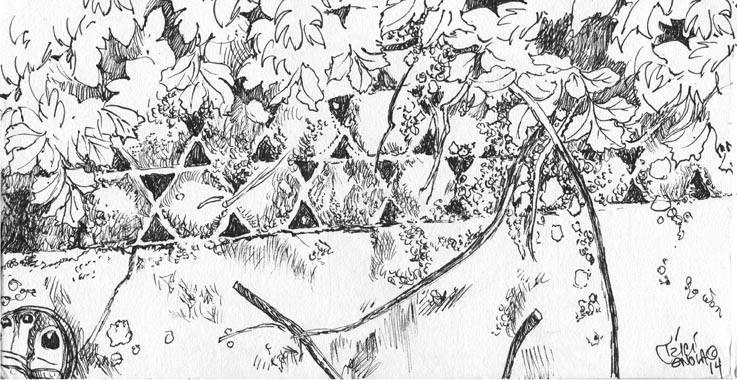 A huge fire in Constantinople burned so fiercely that the lead sheets on the top of Hagia Sophia melted, it was said, and poured like rain. Fervent prayers to St Sampson preceded a deluge of real rain that put out
Read More »