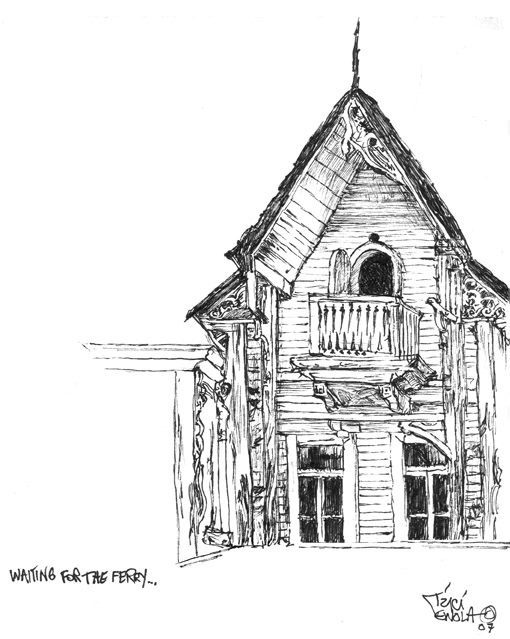 TRIPPING WITH MY SISTER
DIAMOND DUST MARMARA

SOUTHERN TURKEY ANATOLIA KAPADOKYA and back to PLOVDIV
Fall 2007: My sister Penelope was retiring from four decades of teaching art. She took us on one splendid wander.
This trip had been preceded, for me, by a summer made hideous by a landlord couple's insatiable greed. I could not keep them happy no matter how much money I spent, and I spent it all. I later found a tough lawyer to deal with such behavior, but at that point back in 2007, I was exhausted from stress– No kitchen! No Internet, for God's sake- and a neighbor who screamed abuse while I crawled about trying to replace a neighborhood trash pile with a garden. I was beat down and broke. Moving, in Istanbul on limited funds, can take months. I hadn't wanted to ruin our trip. I sold books and scrounged money. I got a stress tic in one eye.
But then came the Hasankeyf Train, and Penny and I had that splendid holiday, bless my generous, art-history loving sister! Afterwards, I felt like myself again. My tic was gone. I was able to finagle my cats and me into a small but happy apartment- with a lovely kitchen- overlooking the Marmara Sea. Good Times were ahead, and we all knew it.
Back in Istanbul with my life changed forever.
PENNY & THE TAR BABY

BITS OF PHASELIS
Here is the proprietor of our favorite restaurant in Antalya, along with some lions and grapes from Phaselis, a winter hangout of Alexander the Great.
TRIPLE WINDOW AT ST NICK'S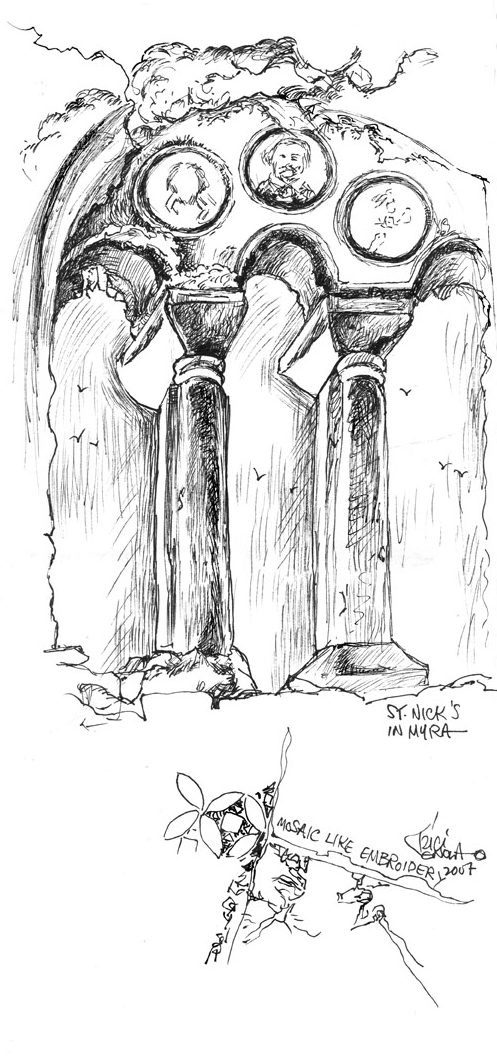 The Basilica of St Nicholas in Myra, built in the 6th century by Justinian. These Byzantine triple windows represent Ss Peter and Paul holding up the Church.
Penny walked the trail and left me to draw happily for two hours. I've never looked at this image without wishing I was there.
A TOMB WITH A VIEW
SIMENA
Thousand-year-old olive trees and cinnamon and saffron colored Lycian tombs from 500 BCE. Turquoise water shading to cobalt in the shadows of the rising hills.
TOMB &OLIVE TREE

A closeup of the preceding drawing. Imagining these two old friends growing ever older together. The hole in the tomb is from looters, presumed to have been Italian Crusaders.
PENNY &THE PERGE LIONS

My big sister Penelope is the best teacher I ever knew. She taught art for 45 years in the second-biggest barrio in the United States, continues to teach to this day, and manages to look decades younger than she is. Perge is one of the great cities of the plains in Southern Turkey. It's probably older than Rome, but these lions are Roman.
HAPPY OVER THE VALLEY

After a languorous journey along the coast of Antalya, we drove up into Cappadocia and fetched up at the Museum Hotel in Uçisar, where we met Moni and Phil from Malasia. He's a British musician, at loose ends until he met Moni, who tied up the loose ends nicely. They are still together. We so enjoyed their company, and the view from Museum's terrace, that we stayed there all day.
VALLEY FROM UÇISAR
The view from the terrace, with Omer's fancy white pigeons in the foreground. Nice to think I got to trade a forgotten cold for this eternal drawing.
ÖMER TOSUN

In those days Ömer would stroll his fabulous terrace with a giant Kangal dog. He had built his hotel from a carpet business, with skill and luck. As the Soviet Union broke up, he told us, people sold immensely valuable carpets for very little. It's an ill wind…